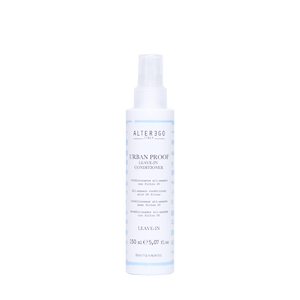 Urban Proof Leave-in Conditioner
---
Ideal for all hair types as a complete protection from UV rays throughout the year and as a perfecting treatment.

All Season Leave-In Conditioner is a no-rinse spray conditioner that can be used in two ways: as a nourishing and detangling conditioner after each shampoo, to hydrate and refine the hair while protecting it from UV damage all year round, and as a summer protective spray to be sprayed before each exposure to the sun.

Leaves hair shiny, soft and easy to comb, ensuring complete protection from UV rays all year round. The hair will be wrapped in a pleasant fragrance reminiscent of summer and the cosmetic colour will be protected and preserved for longer.

The SUN PROOF technology protects the hair fibre structure, both internally and externally, from damage caused by sun exposure. It absorbs UV rays and preserves the tensile strength of the hair after exposure.
The Urban Shield Technology, on the other hand, acts as a protective shield against pollution from external agents such as smog, heavy metals and fine dust, it preserves cosmetic colour and increases hair shine.


Leave-in detangling conditioner
Complete protection against UV rays
Light texture
Urban Shield Technology with anti-pollution action
Protects the hair fibre structure from sun damage
Preserves the duration of cosmetic colour
Nourishes and hydrates
Extreme brightness
150 ml
Usage
Apply after washing, without rinsing as a detangling conditioner
Apply before each sun exposure as a UV protection
Ingredients
Aqua (Water), Cetearyl Alcohol, Behentrimonium, Phenowyethanol, Cetyl Alcohol, Cetrimonium Chloride, Parfum (Fragrance), Sodium Gluconate, Propylene Glycol, Panthenol, isopropyl Alcohol, Ethylhexylglycerin, C11-15 Pareth-9, Citric Acid, Trideceth-10, Acetic Acid, Caprylyl Glycol, Decylene Glycol, Polyamide-2.
---
We Also Recommend