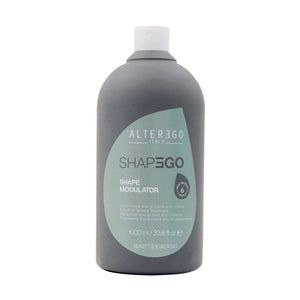 Alterego Shapego Shape Modulator 1000ml - anti-frizz disciplining treatment
The disciplining anti-frizz treatment, thanks to the valuable mix of organic substances that bind to the hair's keratin structure, enables the hair to be tamed and conditioned in a few simple steps, leaving it perfectly nourished and moisturised.
How to Use
Wash the hair with PREPEGO 0.0 shampoo.
Rinse hair and towel-dry excess water.
Distribute the SHAPE MODULATOR treatment evenly over the hair to obtain a thick and abundant lather.
Leave on and blow dry.
Pass the flat iron from the base to the ends.
Wash the hair with PrepEgo 0.0 Shampoo.
Apply Taming Mask to damp hair.
Finally, proceed with blow-drying.
Benefits
Reduces volume and has an effective anti-frizz effect.
Leaves curly hair soft and well defined.
Tips
For curly and voluminous and/or treated hair that is frizzy and undefined.
Technical Characteristics
Contains:
Lime Leaf Extract: rich in active substances, it envelops the hair in a film that smoothes the scales, limits water loss, protects the cuticle and reduces porosity.
De-Stress Complex: provides excellent protection against thermal stress caused by styling tools.
---
We Also Recommend