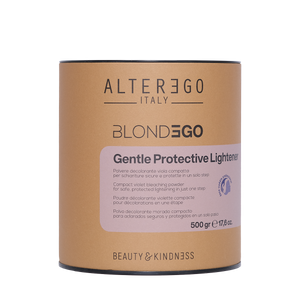 Gentle Protective Lightener
---
Gentle Protective Lightener is a powder bleaching agent enriched with violet micro-pigments with neutralising properties, ideal for safe bleaching techniques up to 7 levels with maximum respect for the hair structure.
The result will be a high-performance bleaching and visibly restructured, radiant, tame and hydrated hair.
The Osmo Protector active ingredient, tested at Alter Ego Italy laboratories, achieves total protection, not only of the disulfide bonds but the entire keratin structure, with a result of maximum hydration both during and after the bleaching service.
• Violet powder bleaching product
• Safe lightening techniques up to 7 levels
• Total respect of the hair structure
• Enriched with violet neutraliser pigment
• Active ingredient Osmo Protector
• Visibly restored and radiant hair
• Patent pending formula
Usage
• Apply mixed with Coactivator Cream at 10/20/30/40 or vol ratio 1:2
---
We Also Recommend