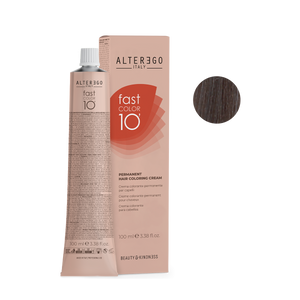 Fast 10 Color /71 Ash Brown
---
A professional and permanent color that works in just 10 minutes, guaranteeing 100% coverage of white hair.
18 Nuances and 5 chromatic series: NATURAL, BROWN, GOLDEN, COPPER and RED, to intensify the tones, play with shades, enhance the brilliance or light up the colors with vibrant reflections.
The formulation of Fast Color 10' is enriched with latest generation carrier substances capable of accelerating the penetration of the pigment inside the hair, guaranteeing absolute fidelity to the result and a uniform result.
Mallow extract, with antioxidant properties, restructures and regenerates the fiber, bringing shine, while Orchid extract invigorates and softens the hair.
In line with the sustainability choices that distinguishus, Fast Color 10' packaging is kind, made up of recycled aluminum tubes, caps produced with the least possible use of plastic and boxes made of compostable FSC certified paper.
NUANCE 6/71
Permanent color in 10 minutes
100% coverage of gray hair
Intensification of color tones
No pigment overload
Extreme brightness
Delicate fragrance with floral notes
With Ammonia
Vegan Friendly
Eco-sustainable pack
Without PPD and Resorcinol
Usage
Mix color with Coactivator Cream 20/30/40 vol. * with ratio 1: 1
Apply on the base
Leave on for 10 minutes
Emulsify the color with 'water and rinse
Shampoo with the most appropriate Alter Ego Italy treatment
* 20vol. on white hair, 30vol. on rarefied white hair and 40vol. to lighten the natural background up to 3 levels
---
We Also Recommend