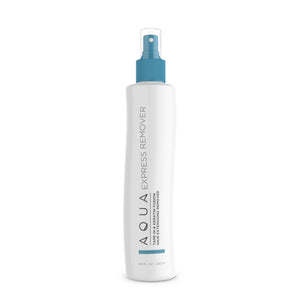 Aqua Hair Extensions Express Remover
Remover for both Tape & Keratin Fusion hair extensions system
For use with Aqua Hair Extensions Tape-in and Keratin Fusion Systems
8.5oz
This solution is a blend of alcohol and mineral oils, which is sprayed directly onto the adhesive of the tape-in extensions or the bonds of the keratin fusion to remove them from the clients' hair.
Tape-In Removal: Spray Express Remover onto the top of the tape bond and allow it to sit for 30 to 60 seconds. Using your fingers, start in the middle of the tape bond and gently open the panel to remove the extensions from the natural hair using a downward motion. Do not apply too much pressure during removal. If needed, apply additional Express Remover to further loosen the adhesive.
Keratin Fusion Removal: Start by breaking the bond using your Bond Breaking Pliers. Spray the Express Remover onto the bond and continue to break each bond using your pliers. Repeat as necessary until you can remove the Keratin Fusion Extension with a light downward pulling motion.
---
We Also Recommend